Week 9 – 10 November 2023
Key Dates
Year 10 Parents Evening – 22nd November
Scholastic Book Fair 15th – 24th November
Year 11 Practice Exams: 20th November to 1st December
It's back to business after the half term break and what a busy week it has been!
Parent Surveys
Firstly, many thanks to all who completed our parent survey, we very much value your opinions and thoughtful feedback. We were pleased that our after-school clubs and enrichment opportunities were received with so much positivity and this is testament to the hard-working staff who run such a huge variety of clubs and the pupils who regularly attend them.
Further useful feedback for school was given by parents who asked for an update on what their child is learning about.  This can be found here on our new website https://www.yorkhighschool.co.uk/what-are-students-learning/
Mr Walker was delighted that many parents responded positively to the York High Way and that pupils are sharing information about our behaviour curriculum with people at home.
Our new website also contains contact details for key staff in the Senior Leadership Team, Heads of House, Welfare, SEND and Attendance Team.  The names of staff on this page also have links to their email addresses which we recognise is often the preferred way to make contact with staff in school.  This information can be found here https://www.yorkhighschool.co.uk/our-staff/
The feedback received about school uniform was also overwhelmingly positive.  We agree and are always proud of the way pupils take pride in their uniform!  There were a few comments about the school uniform skirts and we are glad to have your support about this as we have given updated guidance about skirts which will come into effect in January.
Parent Forum
Internet safety, particularly around social media, is a really important topic lots of people want to know more about.
At 6pm on Thursday 23rd November, we're running a 10-minute online session on this topic!
We'll share the link next week, and you can tune in from anywhere!
We hope that many of you will join us.
Sports Clubs
Mrs Haldenby and the PE team have published the list of sports clubs for this half term with firm favourites such as Danish longball and rollerblading still on the weekly programme!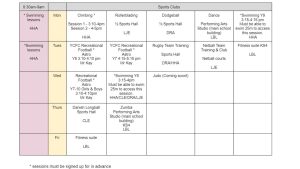 If you are interested in climbing please email Mrs Haldenby h.haldenby@yorkhigh.southbank.academy 
For York City Football sessions please email l.kay@yorkhigh.southbank.academy
Swimming
Each week students will receive a google form to their school email.  To reserve a swimming place they must complete the google form.  There will be 30 places per session. 
We have a busy inter schools fixtures calendar for Football, Rugby and Netball.  Any pupils interested in representing the school at competitive events should speak to their PE teacher.
Remembrance
Pupils have been engaged in reflection and remembrance this week as part of the assembly theme linked to remembrance and conflict.
Assistant Headteacher Mr Hardy has led our assemblies on this important theme and this morning pupils and staff took part in a minute's silence to remember the importance of Armistice Day, and those who gave their lives in conflict.
Year 8 excel in Science!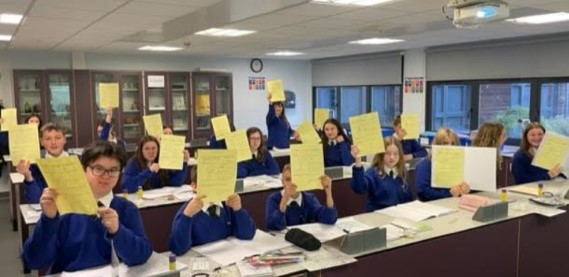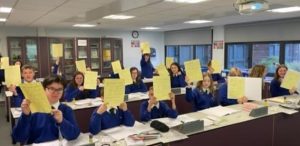 Mrs Alexander was delighted with the progress and achievement of her Year 8 class in their recent assessment.
They have been learning about the human body and the role of vital organs.
Pupils demonstrated excellent reflection skills in the lesson and were keen to add even more detail to their work during class feedback.
Well done Year 8!
Year 10 Parents Evening
Year 10 Parents Evening is on 22nd November and the appointment system is now open for booking.
This is a fantastic opportunity to see how your child is settling into their GCSE options.
Please contact Mrs Walker in the pastoral office if you need any assistance with booking appointments.
Scholastic Book Fair
The Scholastic Book Fair returns to YHS
Miss Linsey is looking forward to hosting another Scholastic Book Fair in the LRC,  just in time for the festive season.
Back in March we had a really successful fair, with all the sales raising over £300 for new books, thank you!
Students will be given the opportunity to visit the book fair in school from Wednesday 15th November till Friday 24th November, and parents attending the Year 10 Parents Evening will be able to take a look at what's on offer on Wednesday 22nd November.
You can also take a look at the whole selection on offer by visiting the virtual bookshelf at https://bookfairs.scholastic.co.uk/bookcases
For more information on how to order look out for our social media posts and emails, alternatively you can email library@yorkhigh.southbank.academy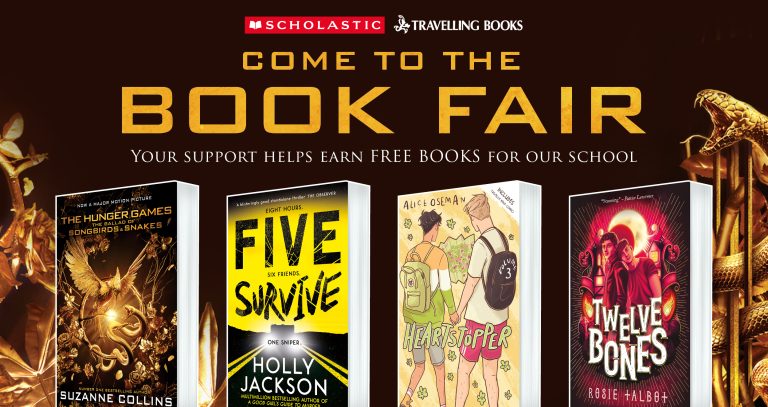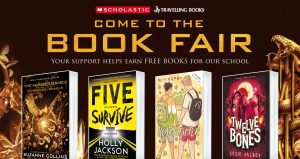 Performing Arts
Hot on the tails of the announcement of our big school production 'We Will Rock You' next April, we are excited to announce we also have a 'Festive Showcase' for you this December.
On Thursday 14th December York High School presents the 'Festive Showcase' celebrating our student's work, including singing, dancing and poetry.
The evening will also include an exclusive preview of the next school musical "We Will Rock You" and a truly unique festive performance by select members of staff.
We hope you will join us and support the excellent work being done by students.
Funds raised from this performance will be used to directly enrich the extra-curricular offer in the department and the next school show.
Tickets are available now via ParentPay or from the Finance Office.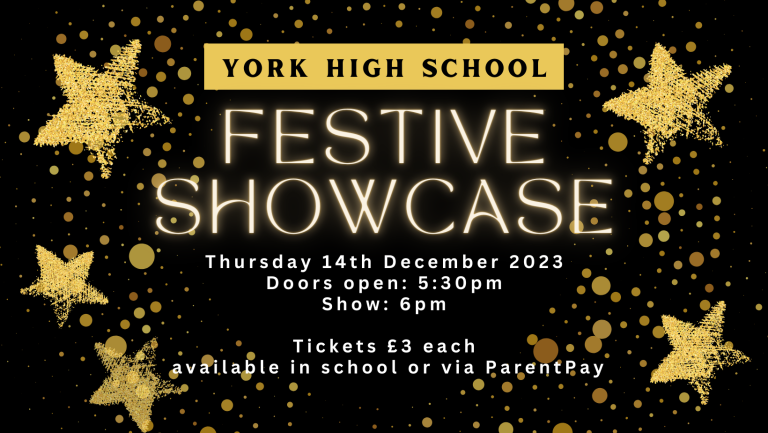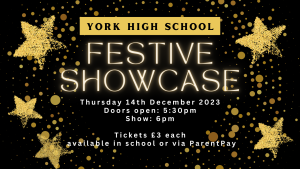 The YHS Way
This week's focus from the YHS Way has been on movement around school.
We would really appreciate your support in discussing this at home as unfortunately Tyrion, Mrs Alexander's support dog was knocked into
Often our site team and science technicians are moving equipment, machinery and furniture around and to ensure the safety for everyone, we expect pupils to walk calmly and sensibly around school.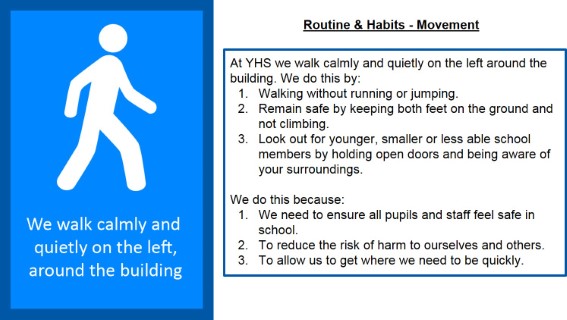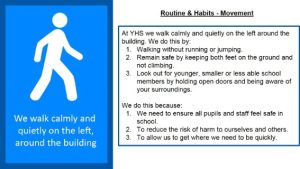 I also wanted to share a bit more about why we are doing the YHS Way.
The Intention
At York High School we develop our pupils through our RAS values of resilience, aspiration and success. To support this, we define the behaviours and habits that we expect students to demonstrate through our behaviour curriculum, The YHS Way.
We want to support our pupils to grow into adults who are respectful, confident and empowered and believe that as pupils are taught and practise these behaviours, over time they become habits and routines that positively shape how they feel about themselves and how other people perceive them.
Implementation
The behaviour curriculum is explicitly taught through tutor led activities, assemblies and during all lessons and interactions throughout the school day;
Tutors will explicitly teach pupils the routines and habits to be successful in school
Classroom teachers will explicitly teach behaviours for learning within their subject
All staff will model the YHS way
Parents will encourage pupils to model the YHS Way
Impact
The YHS Way is used to discourage disruptive behaviour in order to:
Encourage pupils to take responsibility for their own choices and be responsible for the consequences of their actions
Embed the RAS values
Time in class is spent on teaching and learning.
Enable teachers to deliver excellent, engaging lessons.
Ensure that all individuals at YHS are treated fairly and shown respect.
Provide clarity for staff and students about acceptable behaviour and the consequences of misbehaviour.
Provide a clear and comprehensive rationale for parents and carers, so that they support and reinforce the expectations in and out of school.
Year 8 Netball
On Tuesday night Year 8's played Vale of York at home for their first friendly match of the season.
Following the tournament before half term the girls clearly had a fire in the bellies to show just how much they could do as a team.
This is the best I've seen the girls play working effectively as a team and showing massive improvements!
From the first whistle it was a very evenly matched game but within the first quarter you could see the York High girls dominate scoring 4 times in this first quarter.
The overall score ended being 11-2 to York High. I am so proud of how the girls continuously show up to practice and the amazing team effort from every single player!
Revision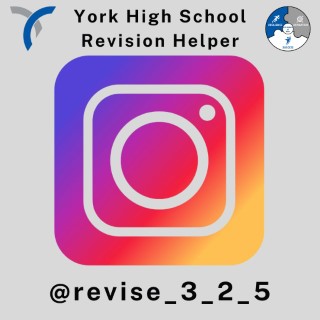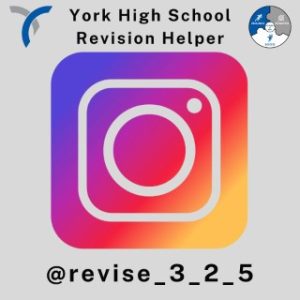 YHS has some great ways to help you with revision, in school and online.
One of these resources is our Instagram Revision Helper.
We post daily questions and videos to support you for the mock exams and beyond.
Follow us now, and see what we have to offer – https://www.instagram.com/revise_3_2_5/
Post 16 Pathways Guide 2023-2024
The 23/24 guide for Year 11 is now live (https://www.york.gov.uk/downloads/file/6119/2022-23-post-16-pathways-guide)
This document will help support you and your child to make informed choices about post 16 destinations, and courses.
If you would like any more support, or information, please get in touch. Mrs Callan, careers leader.
York Acorn Rugby League – Girls Rugby
EXCITING NEWS!!
York Acorn Rugby League are MEGA excited to announce that are recruiting players for the 2024 Girls rugby league team.
Open to all girls aged 11-14 who are wanting try out, be part of a team and more importantly a family orientated club where friends for life are made!
Training starts Monday 13th of November @6pm!!
If your child or someone you know may be interested contact the club via their Facebook page: https://www.facebook.com/yorkacornofficial
Who will be the next Acorn star to make it to the top of Rugby league?
Work Skills for Life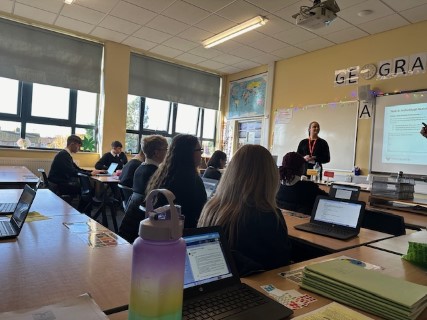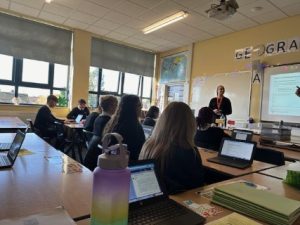 Today Nestle joined the Year 10 and Year 11 Work Skills students and delivered an employability session.
The students were really engaged, and asked some great questions.
Special mention to Holly in Year 10 who stood out as a star, asking a variety of excellent questions.
Mrs Callan
Have a fantastic weekend.
Victoria Burns
Acting Headteacher